Clyde Vanel takes Oath to Represent NYS 33rd Assembly District
January 24, 2017
Skip past photo slidehow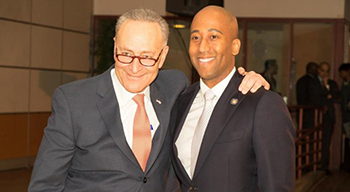 United State Senator Chuck Schumer, left, was one of the main speakers at Assemblyman Clyde Vanel's inauguration to the New York State Assembly.

QUEENS VILLAGE — On Sunday January 22, 2017, approximately 800 people from Queens and surrounding areas gathered into York College to witness the ceremonial inauguration of southwest Queens' newest Assembly Member, Clyde Vanel. Led by Master of Ceremonies, the motivational speaker and businesswoman, Dr. Stacie N.C. Grant, the celebration began with a traditional invocation by former Congressman Rev. Dr. Floyd H. Flake of Queen's premier Methodist Cathedral, Greater Allen African Methodist Church. Vane's longtime family friend, Natalie Imani, a vocalist for John Legend, sweetly serenaded the crowd with Lift Every Voice and Sing; one of the most cherished songs of African American history. Imani was followed by world-renowned dueling pianist, The Altino Brothers, whose recent performance in Carnegie Hall received ravishing reviews. Local schools PS 15 and PS/MS 147 also donated their talents by presenting the colors and an iconic dance performance. Local cultural arts program, DeVore Dance Center, delivered a contemporary Haitian piece to honor the rich Haitian culture of the community that thrilled guests. Following their dazzling performance, Voix et Tambours D'Haiti (Voices and Drums of Haiti) told the story of historical Haiti through intricate interpretive dance and traditional drums.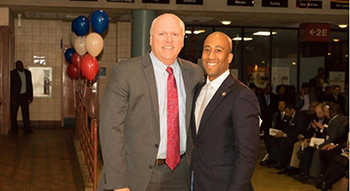 United States Congressman Joe Crowley, left, was one of the main speakers at Assemblyman Clyde Vanel's inauguration to the New York State Assembly.

Senator Chuck Schumer, Congressman "Joe" Crowley, Congressman Greg Meeks, as well as Queens Borough President Melinda Katz, were also among the distinguished guest list of speakers. The first Haitian-American and Obama-appointed justice and U.S. Court of Appeals for the Second Circuit, the Honorable Justice Raymond Joseph Lohier Jr. performed the swearing-in ceremony, referring to Vanel as "the change we need to see." Assemblyman Vanel began his address to his constituents by honoring Barbara Clark, her legacy, and her family for their dedication and service to the community for over 30 years. Vanel focused on bringing back family values, improving education and strengthening the economy.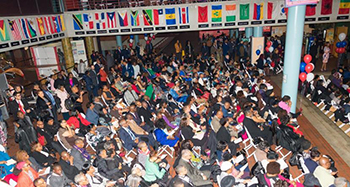 A crown of approximately 800 gathered at York College for the inauguration of Clyde Vanel to the New York State Assembly.

"We are in a state of emergency for the middle-class," Vanel said. "The next generation cannot afford to live in the neighborhood they were raised in. We are priced out of our own neighborhoods." He also stated that he, along with his colleagues in government, will focus on revitalizing downtown Jamaica by working on the $10-billion JFK Airport improvements