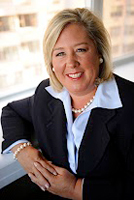 Rebecca A. Seawright represents the Upper East Side, Yorkville, and Roosevelt Island in New York's 76th Assembly District. As the first woman to serve the district and since her election in 2014, she is known as a strong voice for over 133,000 constituents, securing over $17 million in funding for public schools, senior centers, parks, and non-profits.


Appointed by the Speaker in 2023, she holds the leadership position of Chair of the People with Disabilities Committee. Previously, she served in leadership as the Chair of the Majority Steering Committee, Secretary of the Majority Conference, and as Chair of the Task Force on Women's Issues. Nominated by her colleagues, she serves as a Director of the Legislative Women's Caucus and works with her colleagues as part of the Bipartisan Pro-Choice, Jewish, Environmental, and Gun Reform Legislative Caucuses. As a member of the Ways and Means; Banking; Codes; Higher Education; and Judiciary committees, Seawright is motivated to protect her constituents' interests in our great State of New York.


Inspired to renew the movement for the federal Equal Rights Amendment to guarantee that our rights are anchored in our state and U.S. constitutions, she proudly authored and passed an Equal Rights Amendment to our New York State Constitution. For the first time, voters will have the opportunity to vote on the equal rights amendment as a ballot referendum in the 2024 general election.


A champion for high-quality, public education, Seawright champions our public schools and helped obtain more than $1 billion in new state support and sponsors the Teach LGBT curriculum bill to ensure that the NYS Education Department develops curriculum on the historical treatment of and contributions by lesbian, gay, bisexual, and transgender people in America.


Rebecca fights for our community through major environmental and sustainability initiatives such as her sponsorship of air quality monitoring legislation to mitigate the impacts of a waste transfer station at East 91st Street. She is a leading advocate for affordable housing and landmark housing reform laws to abolish vacancy decontrol and restrict rent hikes. A proponent of strong democratic values, Rebecca strongly supports reforms to run elections efficiently, accurately, and with integrity to protect our voting rights. Notably, for the 2020 General Election and the 2021 New York City Primary, Rebecca successfully secured additional early voting and Election Day poll sites.


Her bills have been signed into law requiring all those convicted of hate crimes to undergo tolerance training as a condition of their sentence and rehabilitation; reinstating the Clean Waterways Fund; capping annual fees from lenders; implementing a study on consumer financial literacy; streamlining boards of election; requiring health insurance policies to include 3-D Mammography at no cost to the consumer; encouraging greater representation of women on corporate boards; and identifying how many policy-making positions are held by women in the New York State government. In response to the COVID-19 pandemic, Rebecca co-sponsored emergency legislation that suspends rent payments for small business commercial tenants and certain mortgage payments due to COVID-19.
Rebecca is the recipient of The Dan's Papers Power List of East End'23; Goodwill Industries of Greater New York and Northern New Jersey National Disability Employment Awareness Month "Equity and Inclusion Champion" Award '23; Interagency Council of Developmental Disabilities Agencies, Maggy Ames Legislative Champion Award '23; The Schneps Media Power Women of Manhattan '22, '23; The Schneps Media Power Women of The East End '22, '23; Planned Parenthood Sexual and Reproductive Health and Rights Champion; The Queer Big Apple Corps Award '22; Women's eNews 21 Leaders for the 21st Century '21; The Met's 13th Annual Women's Award '20; Congresswoman Carolyn Maloney Fearless Girl Award '19; A Place to Be(ad) Me Honoree '19; Super Happy Healthy Kids Black Tie Gala Honoree '19; James Dudley Luce Foundation Humanitarian of the Year '19; Lenox Hill Neighborhood House Elizabeth Rohatyn Award '17; The New York Board of Rabbis Humanitarian Galal of the Year '15; and The Feminist Press at The City University of New York 40th Anniversary honoree '10.
She formerly served for 8 years as Chair of the Board of the Feminist Press at the City University of New York, the oldest nonprofit literary publisher of feminist literature. Currently, she chairs the CUNY Law School Board of Visitors. In 2023, Speaker Heastie appointed her to the City University of New York Construction Fund Board of Trustees.