Assemblyman
William
COLTON
Winter 2011
FIGHTING FOR US
AND
OUR COMMUNITY
WE MUST HONOR AND PROTECT OUR VETERANS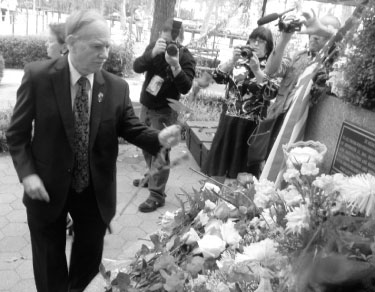 Assemblyman Colton is seen here placing a flower on a 9/11 memorial for the Tenth Anniversary of the attacks. Colton is determined to pursue and support policies that help support our troops fighting to keep our country safe from another horrific attack.
Veteran Resources
Need Help Applying for Benefits?
Call My Community Office:
(718) 236-1598
Federal, State, and Active Duty Benefits
Financial Benefits
Education Scholarships
Preferential Employment
Tax Exemptions
State License Discounts
Disability Benefits
Or Contact:
NYS Division of Veterans' Affairs
1-888-838-7697 (VETSNYS)
Colton Urges Public Support for Returning Vets
As combat operations in Iraq and Afghanistan draw to a close and troops return home to loved ones, Assemblyman Colton is asking the community to remember and honor the commitment our brave young men and women showed to us by showing our commitment to them.
"It's our obligation to make veterans a high priority in our state and country. Whether it's promoting the recital of the pledge in our schools, holding Veterans' Day events in our community, or supporting legislation that will provide the necessary healthcare and job opportunities veterans deserve, we must make it a point to be as committed to them as they have been to us," Assemblyman Colton stated.
A recent study released by the U.S. Department of Defense (DOD) shed light on the mental health crisis facing combat veterans. Some 1,100 members of the armed forces committed suicide between 2005 and 2009. The current unemployment rate for young veterans of the Iraq and Afghanistan wars stands at 21.1 percent.
Colton Supports Expansion of Veteran Programs
While the NYS Division of Veterans' Affairs offers various health, educational, and job placement services, Assemblyman Colton believes much more needs to be done to help our veterans. At the top of the priority list should be access to mental health services and job opportunities.
Colton supports legislation introduced in the NYS Assembly to require various state agencies to coordinate outreach to veterans for procuring affordable housing, suicide prevention counseling, and employment counseling services.
Colton also supports legislation to give preference to service disabled veteran-owned small businesses in bids on state contracts for goods and services.
"It's our obligation to make veterans a high priority in our state and country. Whether it's promoting the recital of the pledge in our schools, holding Veterans' Day events in our community, or supporting legislation that will provide the necessary healthcare and job opportunities veterans deserve, we must make it a point to be as committed to them as they have been to us."
-Assemblyman Colton
ALL RESIDENTS MUST WORK TOGETHER TO KEEP THE NEIGHBORHOOD CLEAN
Clean Neighborhood Campaign Continues
Assemblyman Colton is continuing the campaign to keep our streets and sidewalks clean and beautiful. Colton and staff member Priscilla Consolo mobilized over four-hundred young people from various organizations to clean Kings Highway, Bay Parkway, Ave. P, Ave. X, McDonald Ave., Seth Low Park, and 86 St. At his request, the Department of Sanitation cleaned problem sites at Bay Parkway and 66 St., Kings Highway and W. 13th, Ave. T and W. 8th, Ave. U and W. 10 St., Quentin Rd and W. 7th, and Highlawn Ave. between W. 7th and W. 8th, among others.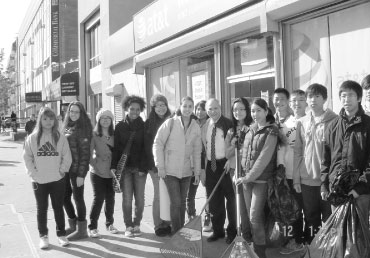 Assemblyman Colton is seen here with aide Priscilla Consolo and volunteers of the clean-up campaign. Over four-hundred youths from various neighborhood organizations participated in various clean-ups.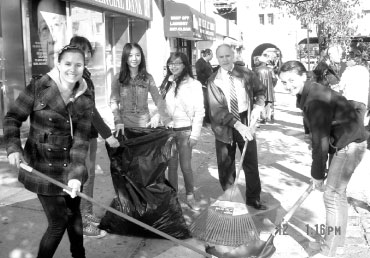 Assemblyman Colton is seen here working with youths to clean-up one of the many street corners that the Speak-Up to Clean-Up Neighborhood Campaign has targeted.
WHAT YOU CAN DO TO KEEP OUR NEIGHBORHOOD CLEAN!

COLTON FIGHTING TO CLEAN-UP AND CLOSE DOWN ABANDONED PROPERTIES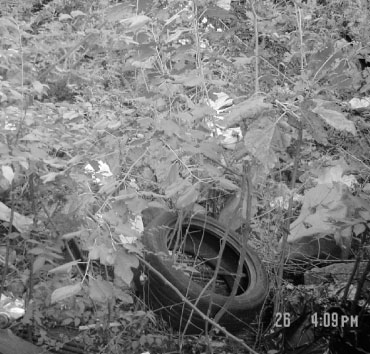 Pictured above is one of the problem sites that Assemblyman Colton is working to get cleaned up. Abandoned properties like this one are a growing hazard in the neighborhood and need immediate attention.
Abandoned Properties Becoming
A Health Hazard
Assemblyman Colton has begun visiting several problematic abandoned properties throughout the district to assess the negative effects they are having on the surrounding residents.
One abandoned property located at 2300 Cropsey Ave. holds a partially demolished nursing home which sits between two functioning nursing homes. The property is in such a state of disrepair and neglect that debris has made the sidewalk impassable and poses the potential to attract vermin, and might already have. Colton is concerned that the accumulation of vermin's feces could produce fungus which can cause meningitis in the elderly and disabled.
Colton Takes Action
Colton alerted the NYS Health Department to this hazard and is pursuing options outside certain city agencies' ability to fine the mortgage holder, as this has not fixed the problems.
"There comes a point where these abandoned properties move from the category of public nuisance to public safety hazard. I will continue to work with residents and those in government who can help assist in either demolishing these properties for good and removing the debris, or revitalizing them to make them useful to the neighborhood," said Assemblyman Colton.
If you have abandoned properties in your area that you want to be acted upon please call the Community Office 718-236-1598.
COLTON PASSES LAW TO STRENGHTEN SEX OFFENDER REGISTRY
Colton's Anti-Sex Offender Bill Becomes Law
Assemblyman Colton fought for and won the passage of a bill this year requiring the Division of Criminal Justice Services (DCJS) to include the type and length of post-release supervision of sex offenders on their online sex offender database.
Colton is hailing the governor's decision to sign the bill into law, calling it a "victory" in the fight for safer communities.
DCJS Unveils Sex Offender Locator Facebook Page
Facebook users now have much easier access to the State's sex offender database through a new page sponsored by DCJS. All a user has to do is search "Sex Offender Locator" and click the "Like" button and they will be subscribed for the free service.
"Sexual predators' growing use of computers to lure victims can only be counteracted by our own vigilant use of such technology. I think this is a great idea and I applaud DCJS for this initiative," Assemblyman Colton stated.
COLTON CALLING FOR MORE BLOCK ASSOCIATIONS
Power in Numbers
Assemblyman Colton is calling on motivated individuals and concerned members of the neighborhood to organize more block associations across Southern Brooklyn. Colton's reasoning is based upon the fact that state and city agencies more often than not respond faster when concerns are being voiced by a group.
"Residents and homeowners have a stake and an interest in addressing common problems such as sanitation, pot holes, traffic complaints, tree pruning, and reporting criminal activity on our streets. Using the power of our numbers, we can increase the quality of life for all of the residents in Southern Brooklyn," said Colton.
Colton's Office Can Help You Organize!
If you are interested in starting a block association to help improve a particular area you can stop by Colton's District Office at 155 Kings Highway and any of the following staffers can assist you: Charles Ragusa, Mark Treyger, Ida Sanoff or Priscilla Consolo. You can also give us a call at 718-236-1598.
COLTON FIGHTING UNFAIR PARKING TICKETS
Colton Exposes Muni-Meter Ticket Shell Game
When Assemblyman Colton heard that residents in the neighborhood were getting parking tickets for using their unexpired muni-meter receipts at different muni-meter regulated streets, he contacted the NYC Department of Transportation (NYC DOT) to demand an explanation of the policy.
Colton discovered that while the DOT doesn't prohibit a driver from using the unexpired time on a different street, the NYC Department of Finance continues to fine motorists who use such time at another location. "This is a shell game for the city to make money that borders on consumer fraud," Assemblyman Colton said.
Introduces Legislation to Clarify Muni-Meter Policy
In light of the NYC DOT recently increasing parking fees and the city's refusal to clarify the proper use of muni-meters, Colton has introduced a bill which specifically states that the muni-meter receipt is transferable from street to street. The bill also provides protections for drivers that keep their receipts as proof that they had remaining time when a ticket was issued.
COLTON'S ENVIRONMENTAL RECORD RECEIVES A PERFECT RATING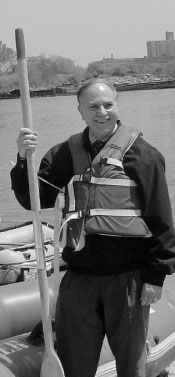 Colton Recognized for Fighting for Clean Air, Water, and Energy
Environmental Advocates of NY (EANY) recently gave Assemblyman Colton a perfect "105" rating for his pro-environment voting record during the 2011 Legislative Session. Colton's score reflects his commitment to protecting our clean air and water from pollution and for his efforts to help make New York a leader in renewable energy resources.
One of the "three-tree" bills featured in the EANY report was a bill introduced by Colton which would vastly reduce recyclables in landfills. Colton's stellar rating was further supported by his sponsorship of the Solar Industry Development and Jobs Act, and legislation banning the sale of mercury-added products and toxic metals in children's toys.
Colton Fighting for Our Environment in Albany and Our Neighborhood
Whether it is advocating for legislation that will reduce toxins in our air, water, and consumer products, or forcing the closure of the South West Brooklyn incinerator and the subsequent fight against a garbage transfer station, Assemblyman Colton has been steadfast in his commitment to protecting our health and environment.
The proposed garbage transfer station poses one of the most significant environmental and quality of life threats to the community and Colton continues to lead the fight against its opening. For updates and information on how you can help fight the placement of the garbage transfer station please call or visit Colton's Community Office.