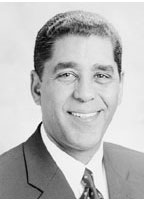 A recent editorial in a local newspaper stated that the American "melting pot isn't working anymore" because this country's traditional European immigrants have been replaced by Third World immigrants. It further stated that our immigration policy has been out of control since the passage of immigration reform laws in 1962 that altered the "ethnic mix of this country." Unfortunately, in the aftermath of the September 11, 2001 terrorist attacks, a growing number of Americans seem to agree with this view.
As chair of the Assembly's Task Force on New Americans, I can assure you that these assumptions are wrong. Our country has thrived for the last 200 years due in great part to the constant influx of immigrants from all parts of the world, including Third World countries. The social, cultural and economic contributions of Polish, Irish, Russian or Italian immigrants are not more or less relevant than those from Mexican, Bangladeshi, Indian or Filipino immigrants. Every day, I see many of these new Americans working very hard as doctors, taxi drivers, cashiers, lawyers, pharmacists, nurses, gas station attendants, laborers and legislators like any other member of society. These immigrants are pursuing the American dream. They are proud of their contributions, and we should all be grateful for the benefits we receive from their hard work.
What is "broken" with immigration today is not the nationality of the immigrants, it is the growing insensitivity toward newcomers. It is the mushrooming of hate groups who seek to blame immigrants for the problems that ail society. It is the laws that continue to deny these immigrants access to health care, a good education, and in some cases legal status. Closing the door to immigration is not the answer. Scaring people into thinking that these immigrants are undeserving of the American dream is not the answer. Trying to find solutions to help those in need, whether they are recent immigrants or third generation, is what we need to be doing now to prepare for the future. The Task Force on New Americans will continue to work for all New Yorkers to achieve these goals.