Ra Hosts "Heroes Night Out" Barbecue To Honor Local Veterans
Dinner offers chance to give thanks to local veterans for their service
August 15, 2014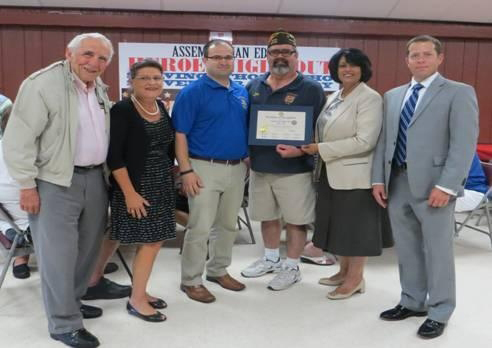 Pictured Left to Right: Louis Palermo, Commander, Franklin Square American Legion Post #1014; County Clerk Maureen O'Connell; Assemblyman Ed Ra; John McManamy, Commander, Franklin Square VFW Post #2718,Hempstead Town Clerk Nasrin Ahmad; and Thomas Rademaker.
Assemblyman Ed Ra (R-Franklin Square) recently hosted a free barbecue dinner to express his appreciation for local veterans. The dinner, which was held on Thursday, August 14, was an opportunity to honor and thank local veterans for their service to our country.
"Every year I look forward to working with area organizations to make this event a success for our local veterans," said Ra. "This dinner gives us a chance to express our deep appreciation to the dedicated servicemen and women in our community. It is so important that we remember to honor all our veterans, past and present. They have made great sacrifices for our country, and this is but a small token of thanks and gratitude."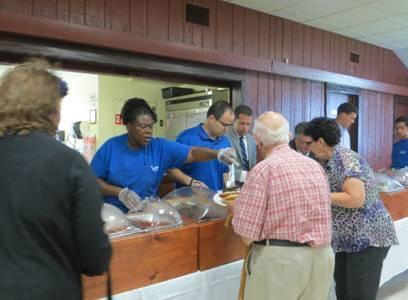 Assemblyman Ed Ra serves guests at his Veterans BBQ
The dinner attracted dozens of local veterans and their families from across the area. Veterans in attendance have served in conflicts from World War II through the present. The event provided a chance for many veterans to share stories from their time in the service.
"I want to thank the brave servicemen and women of our community for attending the barbecue, and The Coral House, VFW Post #2718 and representatives from Nassau County Clerk Maureen O'Connell's Veterans Recognition Program for making this special event possible." said Ra. "We had a wonderful turnout, and I greatly appreciated the chance to sit down with local veterans and listen to their inspiring stories."