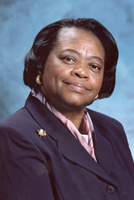 Assemblywoman Vivian E. Cook was born in Rock Hill, South Carolina. Cook graduated from DeFrans Business Institute and entered the business world. Her civic role began more than 30 years ago when the Kennedy Airport and airfreight expansion threatened her community. For over 25 years, Mrs. Cook has served as a District Leader of Queens County and has striven to improve her community as an advocate for education, economic development, housing, youth, the aging, and the battle against drug abuse.
Cook, an activist for community improvement, secured funding for various building and reconstruction projects. Her efforts helped in building a park at the Baisley Park Extension/150th Street and in rebuilding the Charles R. Drew Memorial Park, 140th Street Park, Rochdale Park and the tennis courts and recreation building also located at this site. She has helped develop community housing programs that provide residents with affordable homes. She has also obtained improved benefits, housing, and medical services for senior citizens.
Some of the numerous awards she has received in light of her achievements include: Sojourner Truth Award - National Association of Negro Business and Professional Women's Club, Inc.; Rockaway Boulevard Senior Citizens Golden Kiwanis Community Service Award; 113th Precinct Senior Citizens Award; 103rd and 113th Precinct Community Service Award; Friends of Arts Award; New York State Assembly and Senate Award; Sutphin Boulevard Civic Association Award; South Ozone Park Women's Club Award; Citizens for Jenkins Community Service Award; City of New York 10-Year Community Board Service Award; Neighborhood Council Award for Community Service; Springfield Gardens Mother's Day Award; NYS Martin Luther King, Jr. Institute and Commission Service & Leadership Award; P.E.F. Political Action Committee Award; New Jerusalem Eastern Star; J-Cap Award; Rochdale Village Little League Award; Military Women of NYC Award; Forestdale Foster and Adoptive Parents Association Award; Neighborhood Housing Services of Jamaica Award; South Jamaica Houses Award; Partner in Education Award; Square Deal Civic Association Award; Queens EOC Award; Kew Gardens Civic Association Award; Jamaica Service Program for Older Adults Award of Appreciation; Zeta Phi Beta Sorority Finer Womanhood Week Award; Kiwanis Club of Rochdale Village Woman's Month Award; Southeast Queens Clergy for Empowerment Community Service Award; Better Community Civic Association Community Service and Leadership Award; a Citation of Honor from the President of Queens Borough; Rochdale Village Civic Association Community Service Award; Association of Minority Enterprises of NY Political Leadership Award; and numerous other awards of appreciation from community organizations, including the New York Junior Tennis League, Brooks Senior Center, Community Baptist Church Little League, York College Small Business Development Center, and the York College Women's Center; Jamaica Chamber of Commerce; The United Black Men of Queens County, Inc., Congressman Gregory Meeks Congressional Award, and Angeldocs.
Assemblywoman Cook was appointed Chair of the Task Force on Food, Farm and Nutrition Policy in 2000. Currently, Mrs. Cook holds the position of Chair, Committee on Committees. She began her tenure during the 1991-92 legislative session and is presently a member of the following Committees: Codes; Corporations, Authorities and Commissions; Housing; Insurance; Rules; Ways and Means; and Majority Steering. Assemblywoman Cook is also a member of the Criminal Justice Task Force, Task Force on Women's Issues, NYS Black and Puerto Rican Legislative Caucus, and the New Yok State Legislative Women's Caucus.
Mrs. Cook resides in Jamaica, Queens County, New York.
Standing Committee Assignments 2022: Codes; Corporations, Authorities and Commissions; Housing; Insurance; Rules; Ways and Means.