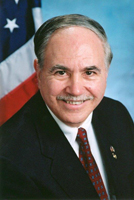 William Colton was elected to the New York State Assembly in November 1996, representing the 47th Assembly District, consisting of the neighborhoods of Bensonhurst, Gravesend, Bath Beach, Dyker Heights and Midwood. He has been a lifelong resident of his district, where he married his wife, Mary, and has two stepchildren, Jennifer and Joseph. He was educated at St. Athanasius School and graduated from Cathedral Prep., the minor seminary of the Diocese of Brooklyn. In 1968, he received a B.A. degree in Urban Education from St. John's University. He also was awarded an M.S. degree in Urban Education from Brooklyn College. In 1978, he graduated from St. John's School of Law with a J.D. degree.
William Colton worked as a public school teacher for eleven years, serving as a UFT Chapter Chairperson for six of those years. While teaching, he attended law school in the evening and he was admitted as a lawyer in New York State in 1979.
Long active in community and civic affairs, William Colton was co-founder and organizer of the Bensonhurst Tenants Council, an organization that was instrumental in preserving the neighborhood by saving dozens of apartment buildings from becoming slum buildings. He also was active in numerous community issues, including improving transit, as a founder of the Bensonhurst Straphangers Committee; fighting for more monies for schools in Districts 20 and 21; serving as the attorney in the successful lawsuit to stop the re-opening of the Southwest Brooklyn Incinerator; fighting for numerous community improvements, such as traffic lights, sewers, vermin and rodent extermination; and assisting in the organizing of community projects, such as Project Option to work for cleaning up of commercial shopping areas, among others.
Mr. Colton has also served as a member of the Board of Trustees of the Verrazano Lodge of the Order of the Sons of Italy, and a member of the Board of Directors of the Cardinal Stritch Knights Corporation of the Cardinal Stritch Knights of Columbus Council.
William Colton has been the recipient of numerous community awards, including Outstanding Teacher of the Year in PS 56, the United Federation of Teachers of District 13 Political Action Award, the Civic Service Award from the Building Maintenance Education Program of NYC Department of Housing Preservation and Development, the Meritorious Civic Service Certificate from the New York City Division of Preservation and Anti-Abandonment, the Outstanding Community Service Award from the Bensonhurst Tenants Council and the 1996 Man of the Year Award from the Bensonhurst West End Community Council.
Since being elected to the State Assembly he has also received awards from Aidone Social Club, Association of Assistant Principals, St. Athanasius Youth Program, Avenue M Block Association, Brooklyn Italia, Eastern New York Amateur Soccer Association, Ezra's Torah Society, Federation of Italian American Organizations, Jewish Holocaust Survivors, Most Precious Blood Sports Program, New York Junior Tennis League, the Tenants of 8700 25th Avenue and the New York Conference of Italian-American Legislators.
He was appointed Chair of the Legislative Commission on Solid Waste Management and currently serves as Majority Whip.
Standing Committee Assignments 2013-14: Correction; Environmental Conservation; Governmental Employees; Labor; Ways and Means.