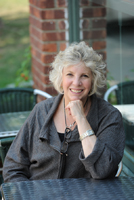 Didi Barrett was elected to the New York State Assembly in a special election in March 2012 and is now in her sixth full term in office. A resident of the Hudson Valley for more than 30 years, she came to elected office after a career as a writer, museum professional and longtime leader of not-for-profit organizations. As a member of the Assembly, she is Chair of the Assembly's Energy Committee, and also serves on the Committees on Agriculture, Environmental Conservation, and Tourism, Parks, Arts and Sports Development.
Didi is passionate about the agricultural, environmental, historical, and cultural resources of the Hudson Valley and their critical importance as economic drivers and job creators. Her family has deep roots in the Hudson Valley and a long involvement with both Dutchess and Columbia Counties. In 1938, her grandfather and great-uncle first bought a farm in Ancramdale which remains in the family.
A lifetime advocate for women and girls, Didi spearheaded the creation of the Dutchess Girls Collaborative to support local girls and young women. She helped launch the North East Dutchess Fund (NED) of the Berkshire Taconic Community Foundation and helped create the pioneering NED Corps program to deliver social services to this rural region and served on its affiliated Latino Roundtable. She is formerly a trustee of the Anderson Foundation for Autism and former board member of the Millbrook Education Foundation and of Sprout Creek Farm, an educational farm in Poughkeepsie. Didi's other affiliations have included Girls Incorporated of NYC (founding chair), New York Women's Foundation, Planned Parenthood of NYC, the Women's Campaign Forum and NARAL Pro-Choice New York (former board member) and the American Folk Art Museum (trustee emeritus).