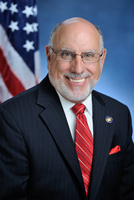 Michael R. Benedetto was born in the Bronx in 1947 and has lived his entire life in Northeast Bronx. He attended local Catholic primary and secondary schools, and in 1969 he graduated from Iona College with a B. A. degree in History/Education. While a student at Iona College he served as President of the Student Council and was listed in Who's Who in American Colleges. In 1971, he earned a M.A. in Social Studies/Education.
Assemblyman Benedetto spent his entire 35 years in teaching on the elementary and secondary school level. From 1969 to 1974 he taught at Our Lady of Assumption School in the Pelham Bay section of the Bronx. In 1974 he joined the New York Public School system as a teacher of mentally and physically challenged children. In 1977 he was assigned to P.S. 160, The Walt Disney School, in Co-op City in the Bronx and in 1988 he became a coordinator of the special education unit. He remained at P.S. 160 for almost 28 years until being elected to the State Assembly in 2004.
While with the New York City schools, Assemblyman Benedetto ran the first "very special" Olympics for multiply handicapped children; became an "in-service" instructor, teaching other teachers about special education; and served as a member of local School District #11 Mainstreaming and SEALL training committees. The Assemblyman also worked as a mentor teacher and taught in his schools' talented and gifted program.
Assemblyman Benedetto has received numerous awards for his achievements in education. In 1987, he received the New York Lung Association award for contributions to preventing children from smoking. In 1992 he received an award from the New York City adaptive physical education department for efforts on behalf of that program. In 1993 he received the FIAME (Federation of Italian-American Educators) Excellence in Teaching Award. He also received New York State and Congressional Citations applauding his teaching achievements. The American Federation of Teachers (AFT) presented Mr. Benedetto with a citation for service to the cause of teacher unionism.
In addition to outstanding accomplishments in his career, he has made a huge impact on his community. For example, in 1969, Assemblyman Benedetto started the Throggs Neck Community Players community theater group and served as a member of Community Planning Board #10 from 1975-1979. In 1981 he started the Bronx Times Reporter newspaper which has become the largest community paper in the Bronx.
As a local community leader, Assemblyman Benedetto worked with local civic and community groups, including the Make-a-Wish Foundation and UCP. He established a monthly Speakers Forum on issues of community interest and established the Chippewa Lawyers Committee, which offers free legal advice from the Chippewa lawyers to anyone who seeks it.
In addition to his accomplishments, Assemblyman Benedetto has served on the staff of Councilmembers Michael DeMarco and Madeline Provenzano. He has been a member of AHEPA (a Greek-American organization) since 1989 and served as a member of the Iona College Alumni Board of Directors. The Assemblyman has received the All-American Columbus Award for his dedicated community service.
As a Legislator, Assemblyman Benedetto has focused on educational and child preotection issues and has been an ardent supporter of union rights.