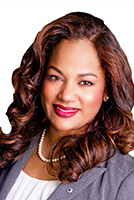 Jaime Williams proudly began her first term to serve the 59th Assembly District on April 19, 2016; this wonderful diverse and eclectic assembly district encompasses the neighborhoods of Canarsie, Georgetown, Mill Basin, Marine Park, Bergen Beach and Gerritsen Beach.
Education remains a paramount importance for Jaime, beginning with the acquisition of her Graduate Equivalency Diploma, and proudly attending and successfully completing Kingsborough Community College, Jaime next pursued her education at York College, earning a Bachelor's Degree in Social Work. Upon successful completion of her undergraduate studies, Jaime earned her Master's Degree in Social Work from Fordham University only to proudly return to her alma mater Kingsborough Community College to successfully earn her CASAC-T certificate (Credential Alcoholism and Substance Abuse Counselor) with a Specialization in Gambling counseling. Jaime's experience includes more than 8 years of counseling women and children who were victims of domestic violence. Her experience has allowed her to collaborate with faith-based community and civic organizations to promote awareness about domestic violence. Jaime utilized her vast skillset and experience to advocate and counsel clients who are HIV positive with history of substance abuse. As a result of her pedigree in education and devotion towards family and community, Jaime is instrumental in countless food and toy drives for families in the community. Following Super Storm Sandy, Jaime drew upon her skills and education in her new position at Catholic Charities Brooklyn & Queens to work in Brooklyn with residents who were devastated and affected by Super Storm Sandy, particularly in Canarsie, Bergen Beach, Gerritsen Beach and Coney Island. Jaime also served as the Community Project Director for Brooklyn East at Catholic Charities, where she provided outreach programs for the community in Brownsville, East New York, Canarsie and Mill Basin. Through continued outreach Jaime served as the liaison between the elected officials to address social service issues that affected programs at Catholic Charities. Jaime Williams epitomizes the definition of an active member of her community her civic dedication can be seen with her contribution and membership for the 69th Precinct Community Council, the Mill Basin Civic Association and Brooklyn's Community Board 18.Always looking for a way to assist those in need, Jaime is a graduate and participant in the City's CERT program, a volunteer program that prepares our community for emergencies by aiding police and fire departments during a crisis.
After the recent battering the Caribbean underwent with storms and hurricanes in the fall of 2017, Jaime led a humanitarian relief mission to aid several countries and territories in desperate need, Dispensing much needed medical supplies and food or even just listening to numerous residents who had their lives grievously altered, Jaime and her team took home the lesson that disaster can strike at any moment and preparation is a must.
Jaime went into the 2017-2018 Legislative Session with an ambition to make an impact in Albany in this area of preparedness. Her recent appointment as Chair for the Subcommittee on Emergency Response and Disaster Preparedness illustrate the importance and passion Jaime has towards properly preparing as many citizens as possible as she can. Leading the charge on disaster preparedness Jaime works hand in hand with the Red Cross, the National Guard and several other organizations all with the purpose and goal of making sure that should disaster strike we can all be ready and prepared. Her desire and commitment towards others and her district make her a cornerstone and foundation of the residents to rely upon and seek guidance and assistance. Her office is always open to all especially those in need.